Wet. Heavy. Sandy. Those three words define the regular beach towel.  We're the experts in textile innovation. Our Absorblite™ fabric tech is engineered to revolutionize the beach towel as you know it. Learn how our innovation makes your beach days better.
SAND-FREE TECH
Engineering sand-free beach days
How do we make beach days a little comfier? That was the question that drove the innovation behind our advanced sand-resistant fabric tech.

Made from a bespoke blend of microfibre, our AbsorbLite™ fabric is purpose-engineered for sand to slip off easily. So you can leave the beach at the beach.
RAPID-DRY
Dries in half the time of a regular beach towel
Rapid-dry was a feature high on in our priorities when it came to revolutionising the beach towel. The functional innovation of our Aborblite™  fabric means that Tesalate beach towels dry in half the time of a regular beach towel.

The result? No more soggy, smelly beach towels.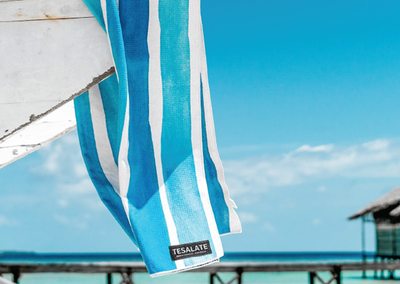 ULTRA-ABSORBENT
Holds up to 1 litre of water
Tesalate beach towels are capable of holding up to 1 litre of water without dripping.

How? 200 times thinner than a single human hair, our Absorblite™  fabric can absorb much larger quantities of water than the regular beach towel. It's the superior choice for your next swim, surf or dip.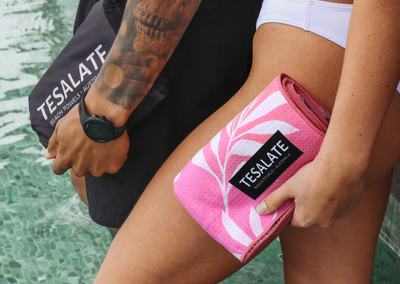 COMPACT & LIGHTWEIGHT
No more heavy, bulky towels
Our Absorblite™  fabric is purpose-built to be compact and lightweight (even when wet) for ultimate convenience.

Whether you're opting for the standard or oversized, our beach towels can fit easily in your tote, backpack or travel bag. Just roll it up and go!
Ready for better beach days?