Lennon
Antibacterial Workout Towel
Antibacterial with our exclusive fabric.

Odour-Free. No more smelly gym towels.

Double-sided Design. Use one side on equipment.
Perfect size: 100cm x 45cm
Compact and lightweight
Ultra-absorbent
Rapid-drying, half the time of a regular towel
Handy hook, hang it anywhere

Our latest innovation: an antibacterial and odour-free workout towel.

Built for a new world where health and safety are more important than ever. We use patent-pending technology to engineer a safe antimicrobial additive into the very core of our fabric. The result? A fast-drying, bacteria-killing workout towel that always stays fresh - no matter how intense your sweat sesh.

Lightweight, compact and the perfect size for every activity. Our designs keep your style on point from the gym, to the studio, to the court.

Meet the new favourite workout towel for fitness done smarter.

Free shipping and returns

New Zealand

Standard (4-8 Days) - FREE
Express (2-4 Days) - $5 NZD

For more information go to our shipping page.

Washing your Tesalate towel is easy. We recommend cold machine wash and simply put it out to dry. It dries fast.
PATENT-PENDING
Antibacterial material
The patent-pending antimicrobial technology built into our workout towels actually kills the bacteria found in your sweat and on gym equipment. The result? A towel that keeps you safe and clean in the gym, the studio, and beyond.
ODOUR-FREE
No more smelly gym towels.
When you expose a moist towel to the bacteria found in your sweat, it provides an excellent breeding ground for fungi. Fungi is what causes your gym towel to smell. But our safe antimicrobial fabric fights fungi resulting in a towel that always remains odour-free.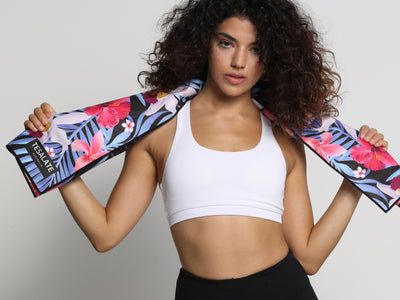 COMPACT & LIGHTWEIGHT
Hit the gym with ease.
Every Tesalate workout towel is designed to be compact and lightweight to fit easily in your gym bag. Just roll it up and go!